The final product of this build will transform this grocery getter into a capable off road vehicle that can support me, my wife, and my friends on our long weekend trips off road, and the longer cross-country trips the wife and I have planned. Because this remains as the daily driver, everything is a compromise between off road capability and day to day economy.
Where it stands today: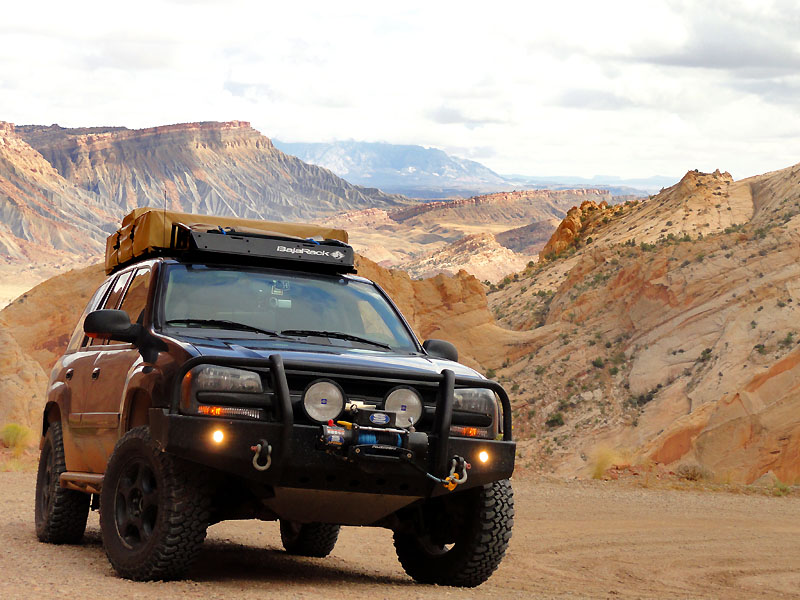 2005 Chevrolet TrailBlazer
Suspension/Drivetrain Modifications:
285/70/R17 (33") Mastercraft Courser MXT - Load Range E
1.5" Wheel Spacers from WheelAdapter.com


FRONT

Radflo Coilovers
Custom Upper Control Arms
Cromolly Tie Rod Links with 2500HD Ball Joints (Moog ES800223 w/ M16x1.5mm Class B7 Threaded Rod)
Swaybar Deleted
4.56 ratio gears


REAR

2" BDS Suspension Lift
Tahoe Z71 GM Rear Springs 15234633
Bilstein 5125 (P/N 33-185552) digressive shocks
Swaybar Deleted
8.6" Axle, 4.56 ratio gears, No-slip locker
Exterior Modifications:
Custom Receiver Bumper - Hella Rallye 4000s - Hella Micro DE fogs -

By Tactical Armor Group - Modified by Freaky Tree Fabrication

Custom Rear Swing-Out Bumper -

By Freaky Tree Fabrication

Trasharoo on the Spare Tire
Roof Top Tent -

Homemade by me

Custom Rock Sliders -

By Freaky Tree Fabrication

Aluminum Oilpan Skidplate and Custom Radiator Skid Plate -

By MDB Fabrication

Half-Roof Rack w/ Bike Rack, Kayak Rack, and Kawell LED Off-Road Lights -

Custom

Diff protector -

By Purple Cranium
Engine Modifications:
Synthetic Motor Oil & Diff Oils
Removed Exhaust Resonator
That's it!
Interior Modifications:
Custom HD Rear Cargo Drawer & Cargo Cases
Weather Tech Floor Mats
12V Fridge mounted to...
Custom Rear Seat Replacement Deck
Custom Switch Cluster
Bail-out fire extinguisher
Red/White Hazard/Emergency LED Strobes (For roadside emergencies)
Weather Tech DigitalFit Front Floor Mats
Electrical Modifications:
Dual Battery Setup - Homemade
750 Watt Inverter
Microsoft Surface Pro 2 w/ Delorme Topo USA
ProClipUSA Surface Pro Tablet Mount
Scangauge II w/ Xmount
Navigon 2100 Max
Bluetooth GPS Receiver
Cobra 19DX IV CB Radio
3' Firestick Firefly CB Antenna on Custom Mount
FRS/GMRS Hand-held Radios
iPod input for factory radio
Reverse camera
Sears Diehard Platinum AGM primary battery
On Board Air - Viair 400C
On Board Water
Recovery Equipment:
Superwinch LP8500 Electric Winch mounted on Curt Receiver Winch Plate - Amsteel Blue Syn line
Hi-Lift Recovery Jack + Offroad Winch Kit + Lift Mate + O-R Base
WARN Snatch Block
Recovery Shackle Receiver Mount
30' ARB Recovery Strap
10' ARB Tree Strap
75' Amsteel Blue Winch Extension Line
Bridging Ladders
20' Static Rigging Strap
Chain, D-rings, etc
Staun Tire Deflators
A ton of tools and survival gear