We know you work hard all year, and want to help you celebrate that one day off that recognizes it!!!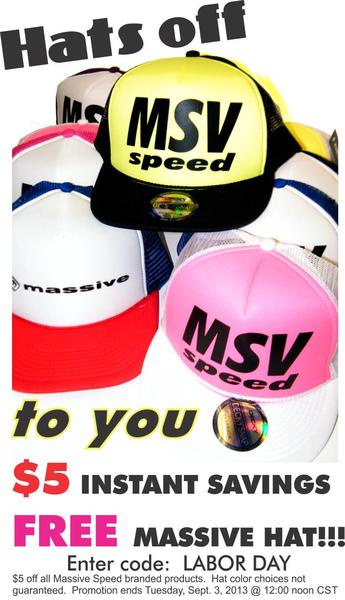 HATS OFF TO YOU!!!
We're giving you
$5 OFF
ALL Massive Speed branded products - NO minimums *
AND one of
Massive's BRAND NEW series of HATS FREE!!!
These hats are SO NEW - they aren't even on the website yet!!! We've got em in dang near every color too - Flourescents, solids, reds, blues, blacks! Place a note when checking out and we will try and get you whatever color you desire, no guarantee though.
Enter code:
LABOR DAY
exactly as it appears above. Discount valid on Massive Speed branded products only.
Promotion ends Tuesday, September 3, 2013 at 12:00 noon CST.
Check it all out
http://www.massivespeedsystem.com
*Does not include apparel only free ship orders. One free hat per order. Colors not guaranteed