My good buddy, and fellow member (CoastieMike) was able to drive down from GA to join me on this. We've been friends for over 10 years, but since 2005, only seen each other 2 or 3 times. I was glad he was finally able to drive down for this trip. He's used to primitive/backpacking style camping. He's not quite used to vehicle based camping yet, or the fact that he doesn't have to bring a tiny stool to sit on, a small back packing stove and pots, and freeze dried food. So that was entertaining.
I know, I know. You northerners sneeze at my title of Deep Freeze in Florida. Well, it was the coldest night of this winter, dropping to a bone-chilling 25 degrees!! Add a 20knt wind on top of that and it made for a good maiden voyage for my RTT and my -20 rated Kelty sleeping bag. I also received my new laptop that morning, so I brought it along without any programs, mostly to see how I liked having it in the truck. I had a Verizon JetPack hotspot, and this was the first time I've ever had Wi-Fi at a campsite. The hot spot had full bars of 4g where we were, so I could've sat back and streamed Netflix, had I wanted to. So, JetPack might actually be a good investment for Mission: Expedition.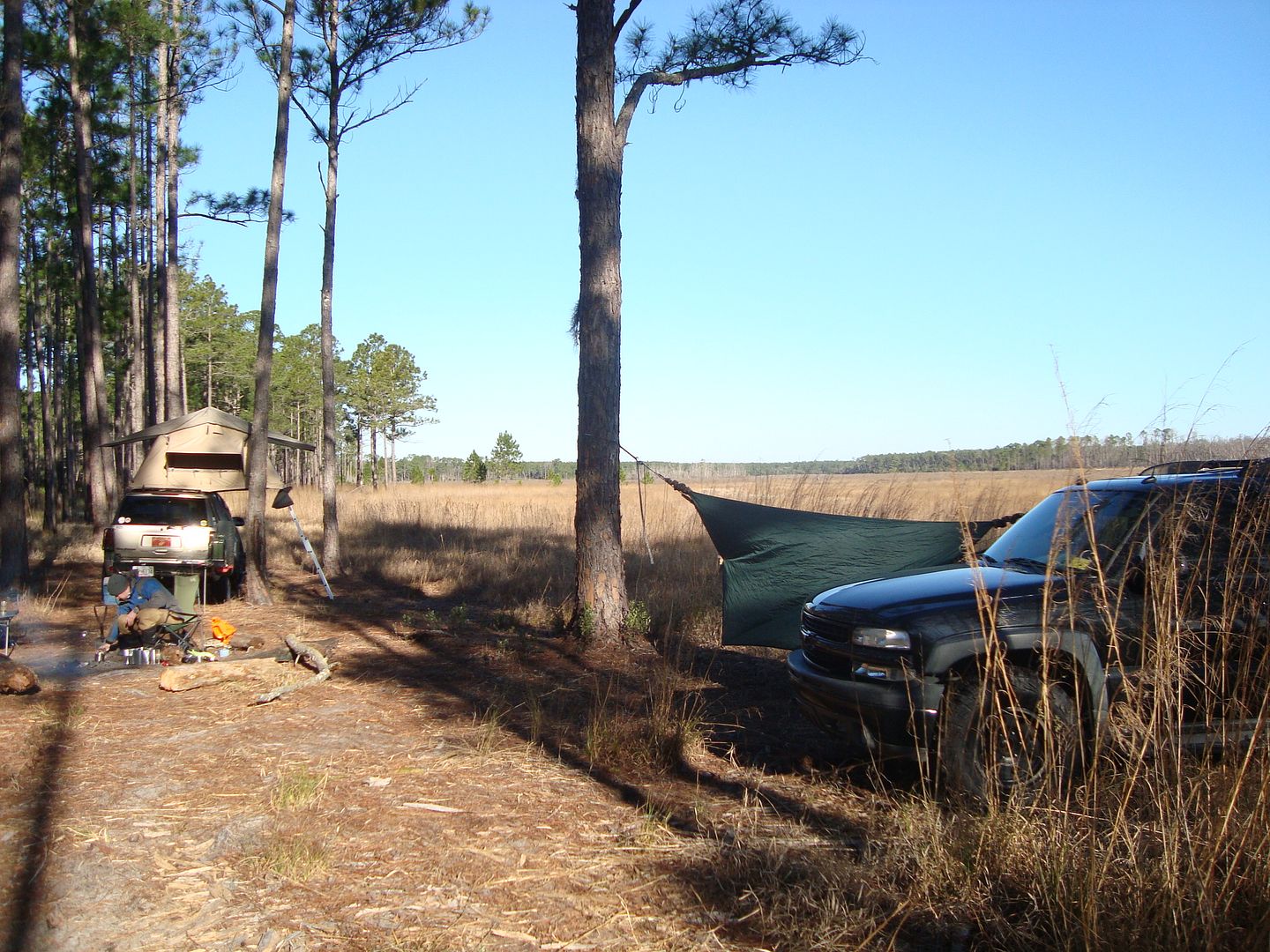 We did some adventuring trying to find a good spot. We settled on a place that I discovered a few days prior, called Hopkins Prairie. 90% of ONF seems to be all closed in dense trails. So this several hundred acre clearing was a nice relief. We set up camp. Me in my Smittybilt RTT and CoastieMike in his Hennessey hammock tent. Once the fire was roaring and the long johns were on, it was a rather comfortable evening. The wind shifted in the middle of the night and not in our favor. Especially for Mike. A 20 knt wind starting coming in right off the prairie and made Mike's night rather uncomfortable. I did not feel the slightest wobble or swaying in my tent. I heard it whipping around, but that was the extent.
I've discovered even more features on this tent. Small things, but I was impressed with the thought that went into it.
For example. This is how I've always set it up. We'll call it, full condo mode.
As you can see, those window coverings look like giant sails. And i was wishing there was someway to "batten down the hatches" for high wind situations. Well, even though it held up nice over night with the wind, as I was packing it away I noticed there is a way to streamline it for high wind. All the window coverings and rainfly have these simple tie downs to hold it closed.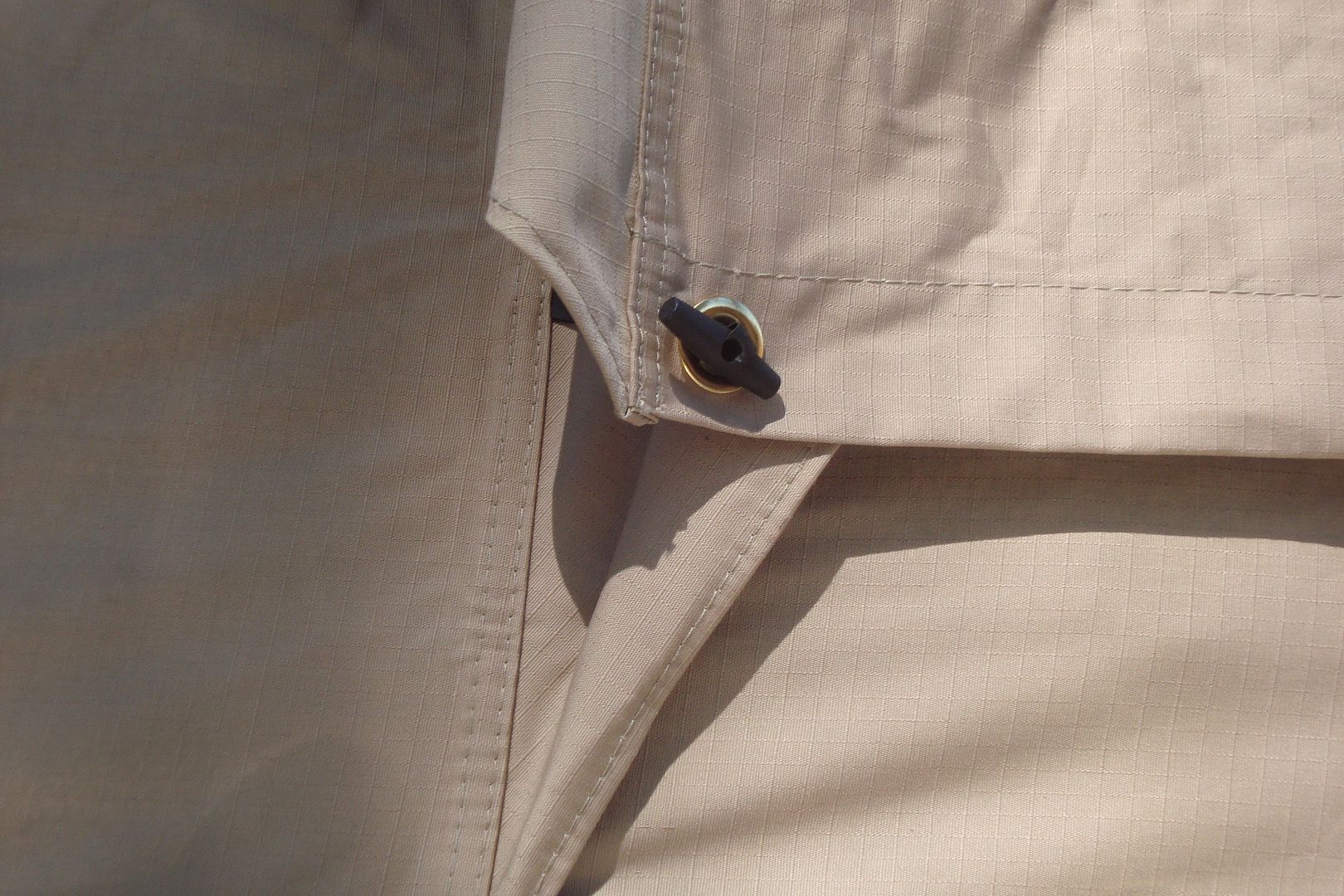 which allows me to turn it into, what I call, turtle mode.
This changes my post-fold-open work to only 2 rods for the opening rainfly. BUT WAIT THERES MORE!! If you're in a dry climate where you're not expecting rain or morning dew, then take the rainfly off with 6 buckles and 3 rods in pockets, and store in tent. Then your post-fold-open work is simply rolling up the doors.
Here's how I slept. The Kelty bag was incredible. I slept without the slightest chill in my toes. The interior has plenty of room, so it's easy for 2 straight men to sleep in their own bags in this tent.
The next morning, after some hot chicken and mashed potato breakfast, and some log posing, we packed up for some more exploring.
We found several other campsites that I marked for future adventures. Many portions of the trail opened up into obvious, previously burned areas with nothing but sugar sand whoops. At one point, while going through these whoops, a bit faster than I should've... I look behind me, and about 100 yds back, I see Mike outside of his truck. I get out to start walking back and over the radio he says "HEY!! Come get your gas can!!" Sure as shit, my 5 gallon can somehow got unlatched and flew out of the tire carrier. No damage to the can, and I just twisted the chain a few times to tighten up when I put it back on. It was rather hilarious.
Now for some more pictures.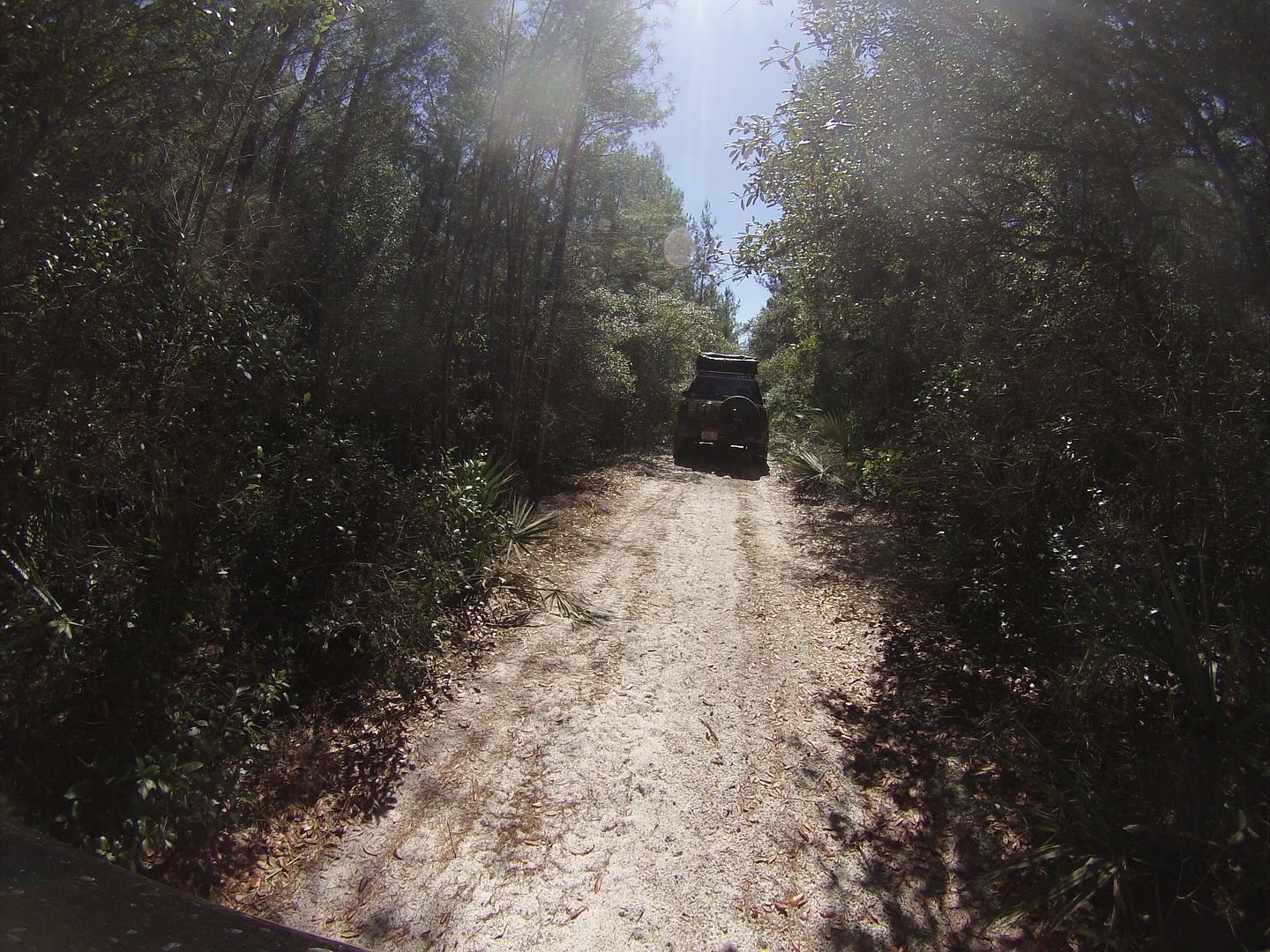 After I got home, I downloaded a demo version of TopoFusion to try out. I plugged in my Garmin and it automatically plotted my course through the forest, including the waypoints I saved. This might be a good buy... Stay tuned for more experimentation with that.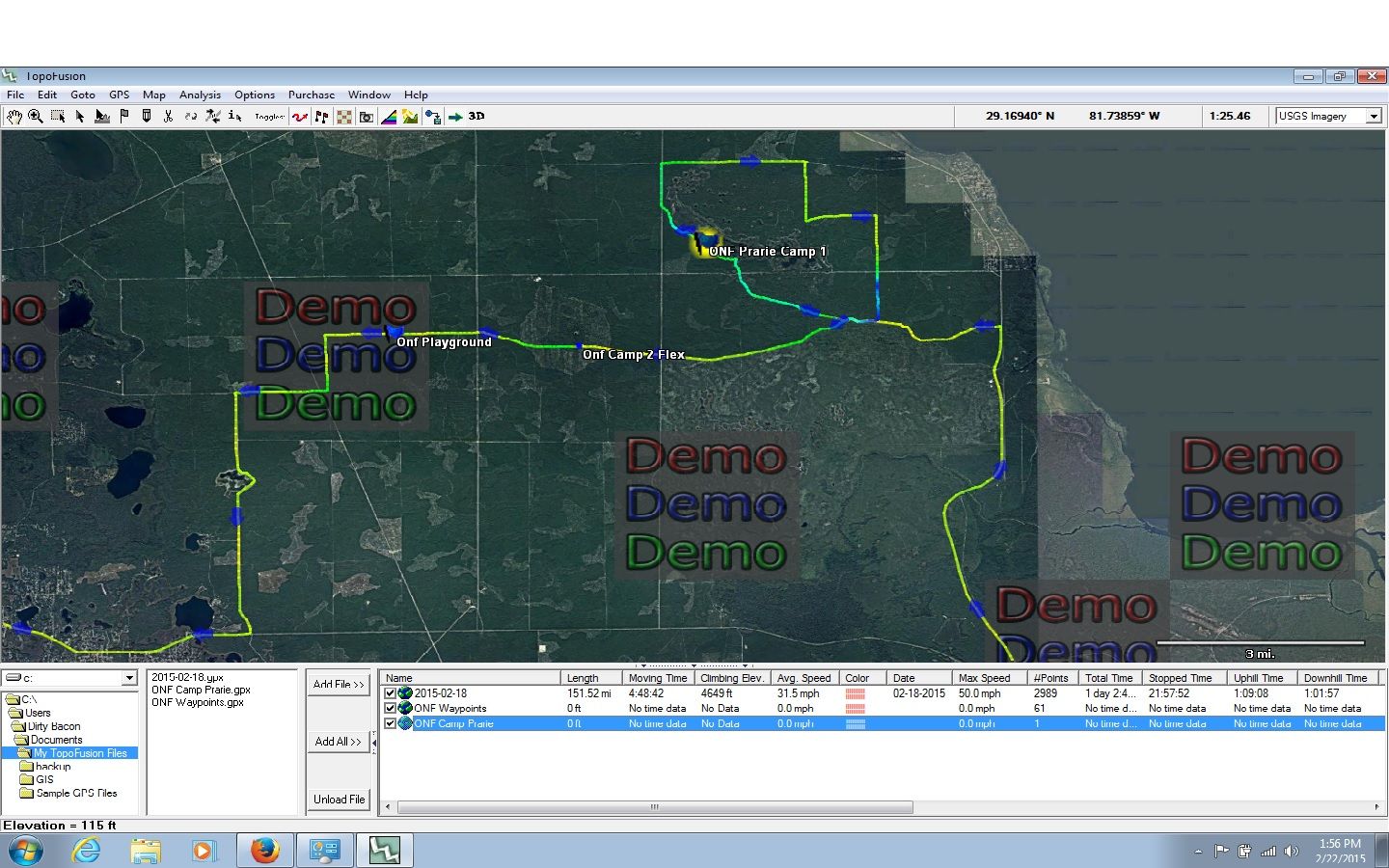 I'm also going to download a trial version of Adobe Premier Pro for video editing. I've watched the tutorials and it seems pretty awesome and easy to use.